10 October 2019
 Lauren Etter, Ben Elgin, and Ellen Huet
The vaping leader moved fast, even for Silicon Valley. But perfecting the delivery of nicotine has unfortunate consequences when kids are involved.
In 2004, Stanford grad students Adam Bowen and James Monsees set out to reinvent the tobacco industry. In 2015 their company, Juul Labs Inc., began selling e-cigarettes and flavored nicotine pods that were twice as potent as many competing vape rigs. By the following winter, "Juuling" was a verb. The two men, former smokers, said their goal was to save millions of lives a year by helping smokers switch. "Fifty years from now, nobody's going to be smoking cigarettes," Bowen said in a promotional video. "They're going to look back and think, Oh, my God, I can't believe people used to do that."
He may be right, but the question today is what happens to Juul. It's facing investigations by the U.S. Food and Drug Administration and the Federal Trade Commission, a congressional inquiry, dozens of lawsuits, and, reportedly, a criminal probe by the Department of Justice. San Francisco has banned the sale and distribution of e-cigs. On Oct. 7, Kroger Co. announced it would stop selling them, joining Walmart Inc. and other retailers. Regulators are investigating whether Juul illegally marketed its products as healthier than cigarettes, and to minors.
Juul's USB-drive-looking vaporizers and sweetened flavors, with names like mango, cucumber, and creme, may well help longtime smokers give up a cancer-causing habit. But they've also attracted millions of nonsmokers, including—as America's parents and assistant principals know all too well—a lot of kids. Researchers warn that Juul's high-nicotine pods and Instagram marketing could be undoing decades of antismoking gains. For many teens, Juul has become a fact of life, as have memes such as a bathroom-wall sign that reads, "Absolutely no peeing in the Juul room."
The company said in an emailed statement that its objectives haven't changed. "We do not want, we do not need and we do not try and get non-nicotine users to use Juul," it said. "More than 70% of smokers want to quit. Offering adult smokers a real alternative to cigarettes is a commercial opportunity of historic proportions."
Achieving verb status is a hallmark of next-level success for any Silicon Valley company, and Juul has reached other such milestones as it became the world's third-most-valuable startup, worth $38 billion after raising $12.8 billion last December. That deal made Bowen and Monsees paper billionaires, and they made sure their 1,500 employees were richly rewarded, too. But the biggest chunk of the money didn't come from Silicon Valley venture capitalists; it came from Altria Group Inc., the Marlboro maker formerly known as Philip Morris, which received a 35% stake. Bowen and Monsees' Big Tobacco replacement project was beginning to look like a standard tobacco company.
Juul said on Sept. 25 that it would end all U.S. digital, TV, and print advertising, and that it was replacing Chief Executive Officer Kevin Burns, a longtime private equity investor who'd previously helped run yogurt maker Chobani LLC. Any relief employees or public-health advocates might have felt at the news of his ouster was short-lived. The company replaced him with K.C. Crosthwaite, Altria's "chief growth officer."
The new CEO has another cloud to clear. Since April more than 1,000 cases of lung injury associated with vaping have been reported to the U.S. Centers for Disease Control and Prevention from 48 states, and at least 20 people have died, including a minor. None of those cases, many of which share pneumonia-like symptoms and signs of chemical burns, have been tied to Juul or its pods; many of the victims reported using pods containing oils from THC, the active ingredient in marijuana, but some said they vaped only nicotine. The anxiety about mysterious killer vapes has helped catalyze the opposition against Juul, the most prominent e-cigarette brand, with more than $1 billion in annual revenue and 70% of the U.S. vape market, according to market researcher IRI. (With a big asterisk: IRI doesn't track online sales.)
Interviews with former Juul executives, employees, and advisers suggest that management's drive to outpace the company's rivals led them to sidestep several internal and external appeals for caution, including warnings from public-health officials that Juuls were rapidly addicting children and from employees concerned that they were being sold without adequate quality controls. The company said in its statement that it meets internationally accepted manufacturing standards and that none of its products currently on the market were in any way rushed. Former employees remember things differently. "They were in such a hurry to get product in the marketplace," says one who, like others, spoke on condition of anonymity for fear of retaliation. "It was just, get it out there, get it out there, get it out there."
Tobacco companies initially started talking about "safer" cigarettes in the 1950s, and research intensified around the time government safety warnings first appeared on packs of smokes. In 1988, R.J. Reynolds Tobacco Co. released a smokeless product called Premier, which flopped. As Reynolds's own CEO later said, Premier tasted "like shit." A Chinese pharmacist released an electronic cigarette in 2003, but its battery life and nicotine kick were weak.
So there wasn't much competition when Bowen and Monsees presented their 2005 Stanford thesis, which dubbed their prototype e-cigarette "the rational future of smoking." They clicked through some slides detailing the psychological reasons people use cigarettes—oral fixation, marketing, sense of belonging. Then came a slide with a picture of a deconstructed cigarette: a piece of paper, a filter, shreds of tobacco. "This is the current solution—it satisfies all these basic human needs," Monsees said, getting the desired laugh from the audience. "In reality," he added, "a cigarette is actually a carefully engineered product for nicotine delivery and addiction."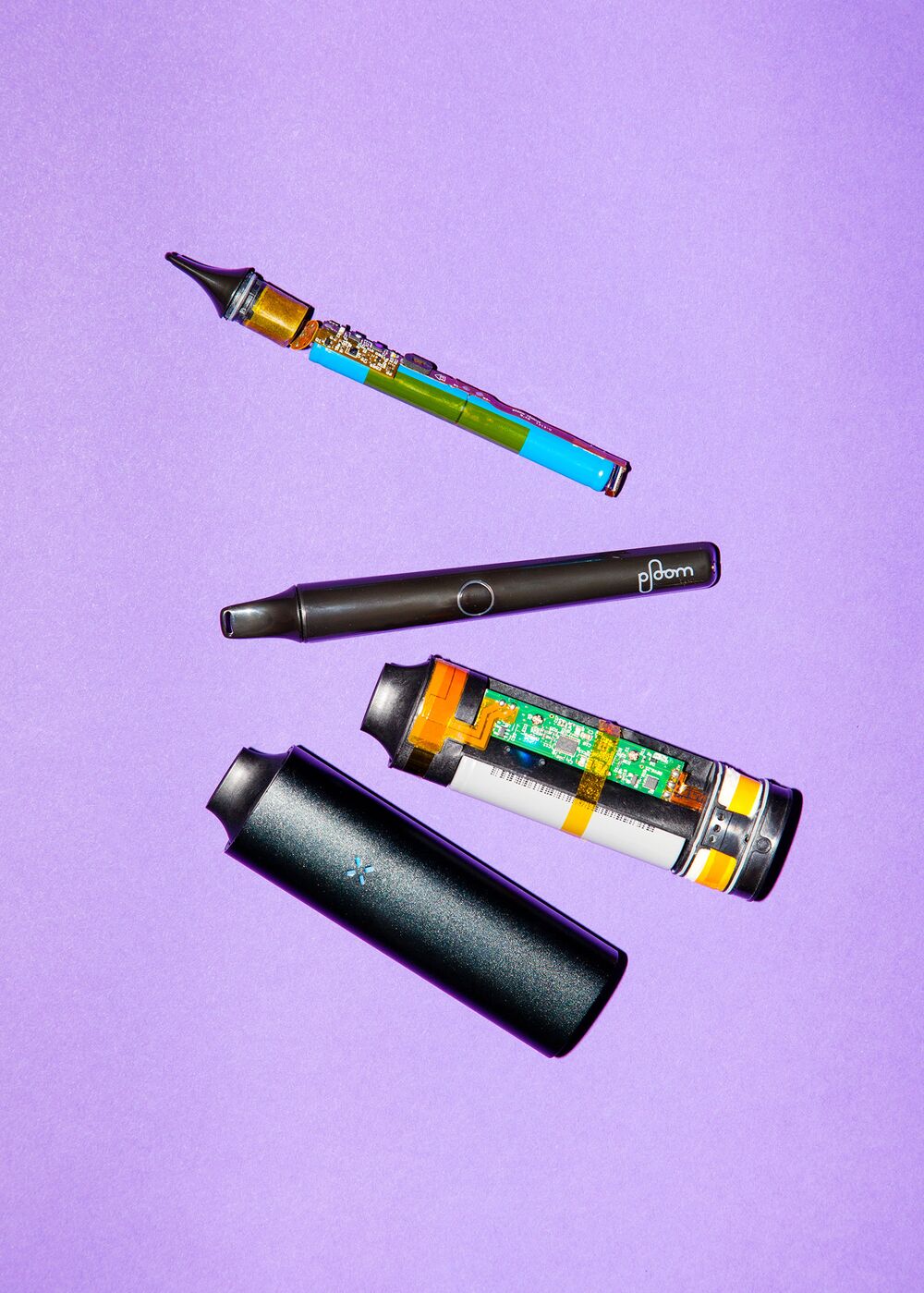 During the presentation, he and Bowen unveiled their first prototype, called Ploom. It mimicked the round, slender profile of a cigarette and used little tufts of loose-leaf tobacco that were heated and vaporized. In 2007, Bowen and Monsees formed a company called Pax Labs Inc. and eventually began selling the Ploom with tobacco pods that came in flavors like "rocket" and "kick-ass mint." After struggling to attract investors from the Silicon Valley set, they invited executives from several tobacco companies to San Francisco to check out the product in late 2009, according to two people familiar with the meetings, which haven't previously been reported.
With cigarette sales steadily falling about 3% a year, the tobacco companies were interested—but unimpressed by the Ploom. "I kept coughing the whole time," recalls a former executive from one major tobacco company. "Clearly it wasn't a finished product." After a day of meetings, Monsees and Bowen invited the executives to a San Francisco bar to see the Ploom in action. At the bar, there were lots of people exhaling big puffs of Ploom vape while they sipped drinks. Outside, however, the tobacco executive found people smoking old-school cigarettes and talking about the vapers, whom they said either worked for Bowen and Monsees or had been given free samples that night. (A Juul spokesman said in a statement that the company regularly sponsored tasting events.) "I was embarrassed for them," the former executive says. On the flight home, "our marketing guy shrugged his shoulders and said let's just do it ourselves."
Every major tobacco company—Philip Morris, R.J. Reynolds, Lorillard Tobacco—would eventually begin work on its own e-cigarettes. Suddenly, Bowen and Monsees found themselves in a race. They hired chemists who reverse-engineered the tobacco plant, and Pax's 20-person research team derived a powerful vape formula from the nicotine salts that form on the plant's leaves. Despite this eureka moment, the process of developing the nicotine liquid remained pretty shoestring. One former Pax employee says the scientists tested the prototype vape liquids themselves and occasionally wound up with their heads in the office toilets.
Nonetheless, Pax's no-guardrails approach got results. Eventually, the company filed for a patent for a vape liquid that Bowen told Inc. magazine had 10 times the nicotine concentration of rival products.
One more thing gave vaping an advantage. The cigarette industry's record-setting $206 billion settlement in the 1990s severely curbed its ability to market to children and requires the companies to help cover state Medicaid costs for smoking-related illnesses. In 2009, Congress gave the FDA authority to regulate tobacco products to prevent kids and young adults from becoming addicts, which mostly meant banning flavored cigarettes and further restricting marketing. Companies would also have to get approval to introduce a new tobacco product. But at the time, the government didn't consider e-cigarettes a tobacco product.
Health concerns about the lack of long-term vaping studies prompted the FDA in 2014 to add e-cigarettes to its antismoking purview starting in August 2016, giving vape makers a couple years' notice to put their products on the market before that deadline to be grandfathered in. R.J. Reynolds created the Vuse in 2013. Altria released the MarkTen in 2014. And the next year, Pax Labs unveiled the first product from its new subsidiary, Juul Labs.
On June 4, 2015, about 400 people packed into Jack Studios, a Manhattan event hall, to celebrate the commercial release of the first Juul. The guests puffed on Juuls, sipped cocktails, and, under glowing blue lights, danced to electronic music with a smattering of hired models: young women wearing cropped T-shirts and muscular men wearing no shirts at all. In Juul's first year on the market, the company sponsored hundreds of similar such "activation" events. Soon, Juul ads were plastered on billboards in Times Square.
Aggressive viral marketing accounted for a significant part of Juul's early sales. So did the hardware's iPhone-esque design. Each Juul looked sleek, conspicuously inconspicuous, and the fashion-conscious could find them in limited-run colors such as blush gold. They came with a USB charger. The snap-in pods initially featured a much wider range of tasty flavors, including coco mint and apple orchard. Most important, Juul's 5% nicotine concentration pods were among the strongest on the market, the rough equivalent of a pack of cigarettes. And, especially when vaping was still a new phenomenon, a Juul could be used virtually anywhere, anytime. In less than a year, the company cranked out 11 vape colors and dozens of pod flavors.
Juul received more than $46 million in venture funding from the likes of Fidelity Investments and Sivia Capital Partners LLC after the product had been on the market for a week. By the end of 2016, Juul claimed to be one of the fastest-growing vape brands in the U.S. and was prepping moves into Europe and Israel. The San Francisco headquarters was rapidly filling with staffers and the huge vape clouds they were exhaling, like a scene from the 50th season of Mad Men.
"We knew that it would be a successful product, but honestly we didn't expect it to be that successful," says Chenyue Xing, who led the development of the Juul pod liquids and now runs a competing vape company, Myst Labs. She says that Juul's high nicotine concentration was meant to make the product satisfying enough to get veteran smokers to switch, but that the team also tried to make sure it wasn't more addictive than paper and tar.
Juul's early success came with hiccups. In late 2015 the company began receiving reports that some of its pods were leaking. The pods also function as mouthpieces, so people mostly figured this out when the highly concentrated nicotine juice seeped directly into their mouth, which some complained caused a burning sensation on their lips. Then the company started receiving complaints about the flavor in some tobacco and menthol pods. Juul scrambled to figure out the cause—an off-spec ingredient in a batch of e-liquid, according to two people familiar with the incident. The company eventually halted production of the e-liquid, but much of the product had already made it to store shelves. Juul didn't issue a recall or disclose the issue, according to one of the people familiar with the matter. "It was a wake-up moment, like, Oh, my God, we have no repeatable processes or procedures in place," this person says. "It was always learning by accident."
A Juul spokesman said in a statement that the company has always had sophisticated equipment and proper labs that exceed industry standards. He said the company investigated the pods and determined the leaks "did not constitute a significant health hazard." Regarding the e-liquid, the spokesman confirmed that the company stopped production and sales of a batch of e-liquid with "flavor profile variance." He didn't address why customers were never notified.
Three former employees say they pressed Juul to strengthen quality controls but were consistently rebuffed, because the measures they suggested would have slowed the company's growth. Instead, they say, Juul did what one does in Silicon Valley: Ship now, worry about bugs later. Last year, Juul executives considered a risk management plan that would have elevated the company's manufacturing standards and added a department to manage and investigate consumer complaints. "They gutted it," says a person who worked with the company at the time. A Juul spokesman said in a statement that the company rejects these assertions and has set up a program to handle consumer complaints, and that it's implementing a quality-control system akin to those used by manufacturers of other FDA-regulated products.
Juul also sent representatives into high schools. Ostensibly, the reps were there to deliver presentations about avoiding addiction. The FDA is investigating multiple complaints that the company used these visits to effectively pitch kids on Juuling. "Juul went after our kids," Meredith Berkman, co-founder of the advocacy group Parents Against Vaping e-Cigarettes, told a hearing of a House subcommittee on consumer policy this summer. Berkman told the congressional panel that a Juul rep told her son's ninth grade classroom that Juul was for adults, not for kids. But after the session, the rep pulled out a Juul and talked it up to the boy, comparing it to an iPhone. Berkman said her son has Juuled but no longer does.
From the beginning, Juul's official stance has been that its prime targets are smokers age 25 to 45. But some former insiders say they soon realized its products and marketing events appealed to a younger crowd. Scott Dunlap, who was chief marketing officer of Pax Labs when the first Juul was released, says the crowd for one of the early Juul launch events clearly wasn't in the 25-to-45 demo. He recalls thinking, "Oh, God, look how young they all are."
Last year the FDA asked Juul to turn over documents related to its marketing practices. The agency also began conducting sting operations to catch retailers selling Juuls to minors. By then, Juuls were everywhere. The 2018 National Youth Tobacco Survey showed that an estimated 3.6 million middle and high school students used e-cigarettes, an increase of more than 70% from the previous year. "These data shock my conscience," the FDA's then-commissioner, Scott Gottlieb, said at a press conference last fall. There was, he said, an "epidemic use of electronic cigarettes and nicotine addiction among kids."
One in nine U.S. high school seniors say they now vape almost daily, according to a study published last month in the New England Journal of Medicine. That's one reason this year's spate of vaping sickness has freaked out health authorities. Another is that it's laid bare just how little is known about the fine-particle substances people are inhaling deep into their lungs. Juul and other e-cigarette makers now have to submit applications to the FDA by May for approval to keep selling their products.
And while research shows that e-cigarettes are likely safer than the regular kind, because they don't appear to produce many of the carcinogens that burning tobacco does, vaping simply hasn't been around long enough for researchers to conduct conclusive long-term trials. In July a CNBC reporter asked Juul's then-CEO Burns about the impact of chronic vaping. "Frankly, we don't know," he said.
For some former Juul insiders, this is the ethical quandary. The product can cut into sales of combustible cigarettes and obviate their woeful health impacts, but it's less clear how or whether users are supposed to quit using their Juuls, which gets tougher if they've signed up for the automatic-refill program to get pods shipped directly to their door. The former employees grimace at the prospect of hooking millions more teenagers on nicotine.
Dunlap, Juul's former marketing chief, says his nieces sometimes reverently introduce him to their friends as the guy who helped launch Juul, which makes him cringe. "I'll tell them nicotine is a chemically addictive substance, and it's illegal for teenagers for good reason," he says. "Unfortunately, sometimes the next response I get from those same teens is, 'Wait, there's nicotine in this?' " —With Shelly Banjo