19 May 2017:
The maker of Marlboro cigarettes has been accused of trying to sidestep new UK laws on plain packaging by rolling out durable tins that look just like ordinary cigarette packets.
Philip Morris, one of the world's largest tobacco companies, came under fire from MPs and anti-smoking campaigners on the eve of the biggest change in tobacco regulation since the smoking ban.
From Saturday, retailers will no longer be able to sell branded cigarette packets, as a 12-month grace period to allow tobacco firms to phase out old cartons comes to an end.
Instead, retailers will only stock plain packets featuring graphic pictures designed to deter smokers. They will also no longer be allowed to stock packets of 10 cigarettes or smaller sizes of rolling tobacco, as part of a package of measures designed to limit the appeal of smoking.
In the run-up to the change, Philip Morris has distributed tin containers, the same size as a 10-pack of cigarettes, to convenience stores around the country. The tins, which were available at chains including Sainsbury's, Londis and Budgens, are printed with Marlboro branding, and feature deterrent pictures and the message "Smoking kills".
One expert said focusing on smaller packs could impact specific groups. "Research shows that packs of 10 appeal to young people and the price conscious," said Karen Reeves-Evans, of the Tobacco Control Research Group at the University of Bath.
"By offering packs of 10 in reusable tins, Philip Morris International is knowingly increasing the lifespan of packs of 10 and promoting its brand, if smokers decant their cigarettes into these small branded tins. The fact that these tins appeared almost immediately prior to the branding and size restrictions coming into force is suspicious."
Alex Cunningham, the Labour MP for Stockton North and a vocal campaigner for plain packaging, said the move appeared to be a ploy to prolong the visibility of Marlboro's brand in the UK.
"It's against the whole spirit of what's intended with the plain packaging legislation," he said. "The tobacco companies will stop at nothing in order to retain their branding and sell a product that everyone knows has such tremendous health risks. It's an immature trick and I hope people will soon put them into their bins and they'll find their way to the recycling centre."
The chief executive of Action on Smoking and Health, Deborah Arnott, said the metal tins appeared to contradict the company's recent declaration that it was aiming for a "smoke-free future". She said: "What's important is not what they say but what they do."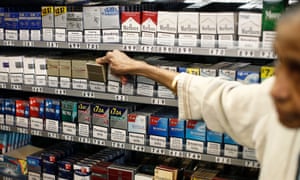 Philip Morris said it manufactured the tins before 20 May last year, the cutoff point after which tobacco firms were no longer allowed to produce branded packs. But the legislation gave firms a 12-month grace period to continue distribution, allowing the firm to keep selling them.
It said only a "relatively small number" were distributed, although it would not say how many, adding that the stocks would be depleted by the weekend deadline.
The tins cost the same as an ordinary pack of 10 cigarettes but, unlike cardboard packets, could help keep Marlboro's branding visible for years because they are so durable. A thread on Reddit, the messageboard website, suggests the tins havehelped increase the popularity of Marlboro, with users saying they were making an effort to find them.
The Guardian understands that some retailers were offered the product but refused to stock it.
Philip Morris rival JTI Gallaher has also issued aluminium tins for its Benson & Hedges, Mayfair and Camel brands in the run-up to the plain packaging laws coming into force in the UK and Republic of Ireland.
The move was described as "extremely cynical" by Ireland's former health minister James Reilly, according to the Sunday Times.
JTI said it had last offered "limited-edition" tins in the UK last year. British American Tobacco, which owns brands including Rothmans and Dunhill, said the company had not issued a similar product.
The tobacco industry has previously come under fire for allegedly deploying tactics designed to limit the effect of plain packaging legislation, such as using price stickers to differentiate themselves from other brands.
Companies were accused of ramping up production of branded packaging in the days leading up to 20 May last year, in order to stockpile packets for sale during the 12-month grace period in which their sale was still permitted.
As well as the ban on branding and packs of 10, a series of new restrictions will come into force on Saturday, including larger health warnings and a ban on descriptions such as "low tar" or "organic". Flavoured cigarettes and flavoured rolling tobacco will also be prohibited.
Cancer Research UK welcomed the legislation, as well as regular increases in excise duty that the charity said mean the average smoker now spends around £2,000 a year on their habit.
It said the cost, coupled with tobacco control measures, would deter people from smoking, a pastime it said kills about 96,000 people in the UK every year.
"Today marks a momentous victory in the battle for a tobacco free future," said Alison Cox, Cancer Research UK's director of prevention. "Standardised packs will help protect the next generation from an addiction that kills around half of all regular smokers."
Big tobacco firms have failed in successive attempts to overturn countries' laws on plain packaging. Philip Morris lost a landmark case against the government of Uruguay, while an attempt to overturn Australia's plain packaging law via a World Trade Organisation dispute also failed.
Kicking the habit
Smoking rates have plummeted since the 1970s, when almost half of the British adult population was partial to a regular gasper.
In 1974, 46% of British people smoked, according to the Office for National Statistics. That proportion has since fallen to 17.2% in 2015.
The steepest declines were seen in the 1970s and 80s, as the public reacted to growing evidence that linked smoking to health problems such as heart disease and lung cancer.
The number of smokers making the decision to quit fluctuated in the 1990s but accelerated again after the ban on smoking in public places, imposed in 2007.
In developed economies such as the US, UK and France, e-cigarettes have increasingly taken the place of ordinary cigarettes, with recent studies suggesting they are a genuine help in kicking the habit.
There remains some difference in the smoking rates between different parts of the UK. England boasts the lowest rate at 16.9%, an all-time low, while Scotland's rate is highest at 19.1%.
Source: https://www.theguardian.com/business/2017/may/19/marlboro-tins-plain-packaging-tobacco-firm-philip-morris-cigarettes